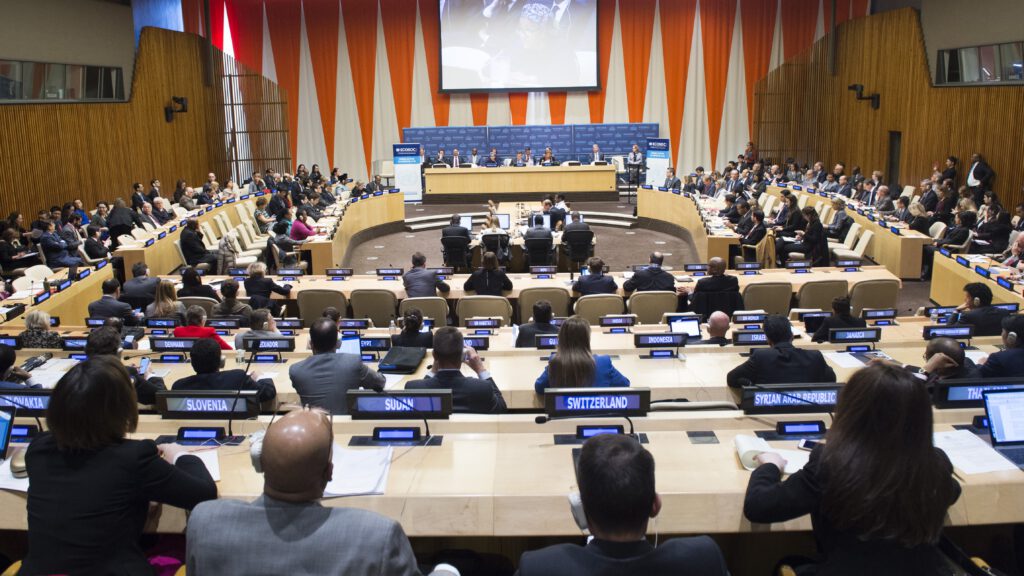 The United Nations Economic and Social Council
The United Nations Economic and Social Council (ECOSOC) is one of the six main organs of the United Nations and was established in 1946 based on Article 7 of the UN Charter. With its seat in New York City, the ECOSOC consists of 54 Member States since 1971 and is concerned with different tasks of the economic and social areas. Moreover, the ECOSOC is the principal body for coordination, policy review, policy dialogue and recommendations on economic, social, environmental issues and for implementation of the internationally agreed development goals. The ECOSOC has its legitimacy and its competences based on Article 61-72 of the UN Charter and engages the realization of research on international affairs regarding to the areas of economy, welfare, culture, education and health. It makes reports of those tasks and can craft recommendations to increase the respect of human rights and their implementation. The ECOSOC can also convoke international conferences.
The council is comprised of 14 African states, 11 Asian states, 6 Eastern European states, 10 Latin American and Caribbean states and a group of 13 states which represent the Western European and other states. These Member States are selected in elections to ensure rotation of one third of the council every year. The ECOSOC can also invite a Member State of the UN to its sessions and declare it as an observer, if this Member State has a special interest in a concerned topic of the session. Therefore, the ECOSOC deals with a vide verity of stakeholders, policymakers, parliamentarians, academics, major groups, business sector representatives and over 3.200 registered Non-Governmental Organizations (NGOs). A large variety of special commissions are subsidiary bodies of the ECOSOC. The functional commissions are separated by their respective topic, while there are also commissions by region, and some commissions are composed of governmental experts. The most important responsibilities, which the ECOSOC is concerned with, are promoting sustainable development, advancing policy integration, providing coordination while building partnerships, guiding operational activities and raising awareness on emerging issues.
Finding Ways towards a Sustainable and Healthy Food Production
The way food is produced and distributed has strong implications for the economies of states and affects humans significantly regarding their costs of living, health, and work. Therefore, this topic intersects with several United Nation´s Sustainable Development Goals.  As activities related to food production contribute up to 30% of the global greenhouse gas emissions, there is great potential in reducing them in total. Also, the growing global wealth leads to an increase in demand for meat and dairy products, further contributing to the climate crisis. The share of agriculture is estimated at 3.5%, a number that must be seen critically, as the number of people with direct economic dependency to food production varies with the degree of development. While highly developed economies feature highly industrialized and centralized production with relatively low workforce related to output, emerging economies have a large share of their population working in food production. Over 60% of the global population depends on agriculture for survival, according to the Food and Agricultural Organization (FAO). The world is producing enough food in terms of calories, however not in terms of enabling a balanced diet, leading to health problems like obesity and a shortage of necessary nutrients with unhealthy diets leading to health costs. The UN´s report State Food Security and nutrition in the World 2020 does argue that switching food systems towards sustainability would reduce the costs of healthy diets. The topic offers a variety of issues to be discussed, such as a decentralized production to shorten supply chains and reduce packaging or thinking of ways to set incentives for a transformation of production towards plant-based proteins. 
Sustaining Economic Opportunities in Emerging Markets and Developing Economies
Emerging and developing economies are an important driver for the development of greater regions and they are likely to account for almost 60% of world GDP by 2030. They provide economic and investment opportunities as they grow, industrialise and rapidly urbanise.  
However, COVID-19 pandemic has shown their vulnerability towards external shocks and widened the gap between investment needs and current flows. Longer lasting post-COVID effects are limiting the capacity to pursue a sustainable recovery comparing to developed countries. Furthermore, globalisation has contributed to migration of well-educated youth that reduces potential for innovation. Emerging and developing economies are also confronted by the reality of climate crisis causing extreme weather conditions such as desertification, droughts or floods that impact their economic development.  
In the light of climate change, it is important to consider what solutions are implemented in power sector, construction, infrastructure and transportation. If their future growth relies on high-carbon path which has been deployed for generations, addressing global climate action will probably fail and it won't be possible to meet the target of Paris Agreement to limit global warming to well below 2°C. Therefore, it is of interest of the global community to support emerging and developing economies in clean energy implementation. There is also a potential for them to jump straight to the adoption and use of clean technologies that bring economic opportunities, especially through creation of new jobs. 
Strengthening local and medium sized enterprises, harmonising framework and enabling access to capital via financial instruments are examples on how to approach seizing economic opportunities that are coming with clean energy. Sustainable growth will require big leaps in technological development and can only be achieved by global cooperation.